Linstat: certified technical textile performance for perfect protection against static electricity
Linstat: All the functionalities for a perfect protection Man / Material and a comfortable working day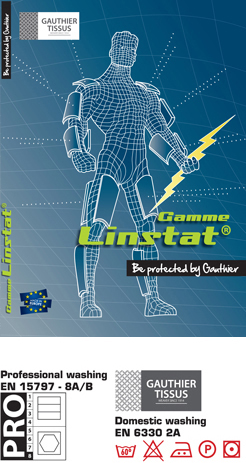 Linstat®
---
The Linstat® Negastat® range has rapidly become the European standard for protection against electrostatic discharge.
The specific build of the Infinity yarn within this fabric (dual filament population which allows optimal moisture management) gives Linstat® Negastat® the highest comfort rating from wearers around the world. Thanks to the Negastat® grid, wearers don't have to be grounded at all times to permanently neutralise static charges. Il takes place through the Corona effect (also called air ionisation). Efficiency is not affected by wash cycles.
Within the Linstat® Negastat® range, additional functions can be found as protection to risk of fire, use in cleanrooms, protection against particles and dust, stretch for added comfort, etc…
The Linstat® Negastat® range is widespread in the car painting sector thanks to its absence of particle emission and its industrial washability which allows for huge savings through drastic reduction in re-painting needs.


LINSTAT
NEGASTAT 125
125 g/m²
98% Infinity® Pes
2% Negastat
EN 1149-5
LINSTAT
NEGASTAT 150
150 g/m²
LINSTAT
NEGASTAT 180
180 g/m²
LINSTAT CONFORT
STRETCH 120
120 g/m²
LINSTAT CONFORT
STRETCH 140
140 g/m²
LINSTAT CONFORT
STRETCH 170
170 g/m²
LINSTAT
ESD 125
125 g/m²
98% Infinity® Pes
2% Carbone
EN 14644 ISO 6
EN 61340-5-1
ECOSTAT ESD 125
125 g/m²
59% Infinity® Pes
39% Coton 2% Carbone
EN 61340-5-1
LINSTAT
CLEANROOM
110
g/m²
98% Infinity® Pes
2% Carbone
EN 1149-5
CLEANTEC 125
125 g/m²
98% Pes
2% Carbone
EN 1149-5
CLEANTEC
160 g/m²
98% Pes
2% Carbone
EN 1149-5
LINSTAT
PROTECTOR NEGASTAT
150 g/m²
98% Pes Trevira® CS
2% Negastat®
EN 1149-5
PROTECTOR 220 FR
220 g/m²
100% Pes Trevira® CS
EN 1149-5